Why choose PT first?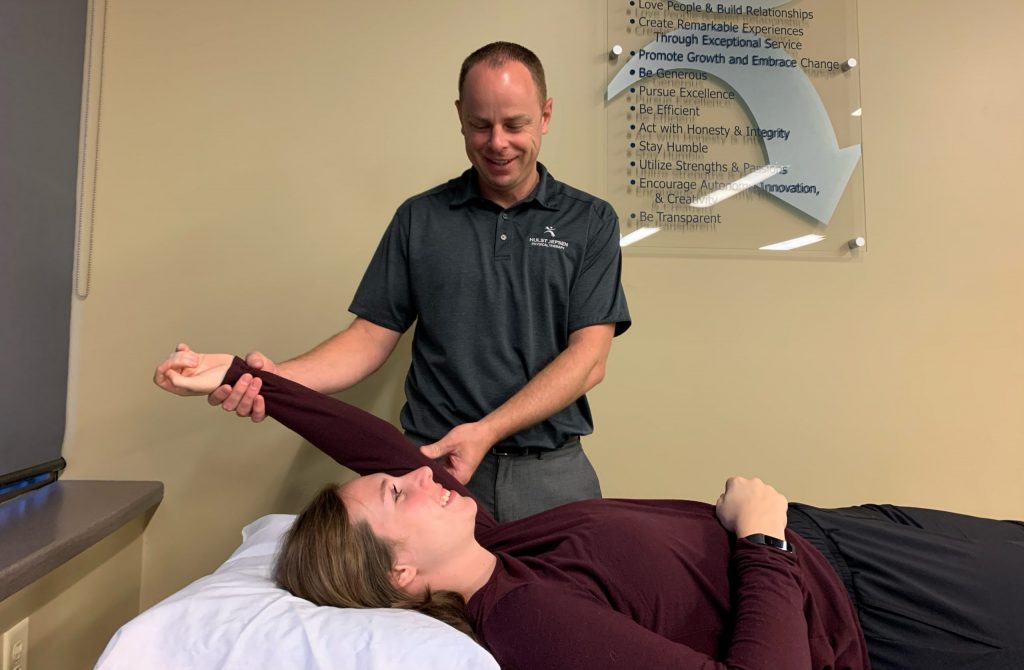 Why a PT Should Be Your Go-to Musculoskeletal Provider
Physical therapists are some of the most skilled providers when it comes to musculoskeletal diagnosis and treatment. We truly are musculoskeletal specialists. Physical therapy is a doctoral degree now, and we get an extensive amount of education in school. We are also required to stay up to date with the latest evidence through continuing education to maintain our license. Many of us enjoy learning, which allows us to better serve our patients.
At Hulst Jepsen Physical Therapy, all of our clinics offer the latest evidence-based treatments (see our specialties tab!) and each therapist is trained in treating all parts of the body. We have just as much training, if not more than a chiropractor when it comes to treating the spine. We work closely with patients' physicians and surgeons to determine the best path of recovery for you.
Whether it is knee osteoarthritis, a herniated disc, neck pain, shoulder pain, patellar dislocation, bursitis, balance/falls, etc., we treat it all.  For many diagnoses, physical therapy is very effective and the only treatment you may need. Here are four of my top reasons you should consider physical therapy first when looking for treatment.
1) It is easier than ever to see a physical therapist!
Did you know you can see a physical therapist without a referral from a physician? In Michigan, you can see a PT for 10 visits or 21 days before requiring a referral from a physician. In a case where a patient would benefit from more than 21 days, many physicians will send a prescription to our clinics as long as we send them a plan of care. You never have to go into the doctor's office. There are many insurances that allow direct access, and we can help you navigate that.
2) Seeing a physical therapist first can save you a lot of time!
Let's say your child hurts their knee during a soccer game over the weekend, or you hurt your back while lifting a heavy box. It may be a week or two before you can get in to see your primary care physician and get a referral to physical therapy. Some patients may wait months to see a specialist. Many times, doctors will recommend physical therapy anyway. Why wait that long when you could see a PT at Hulst Jepsen for a consult or evaluation the same day you call? Choosing PT first could save you weeks or even months of pain and help you get back to doing the things you love sooner.
3) Physical therapy is also very cost-effective.
Sometimes patients are referred for unnecessary x-rays or MRIs, medication, or medical equipment that may cost them extra money. When it comes to imaging, often times we don't need an MRI or x-ray to figure out what could be causing your pain. We can learn a lot just by listening to the patient and performing a couple of tests. An MRI or x-ray will likely not change how we treat you if a thorough examination is done. So come in for an initial evaluation, instead of waiting months to get in for an MRI. We can almost always get you in for an appointment 24-48 hours after you call. Again, choosing PT first will save you time and money.
4) Finally, a physical therapist can point you in the right direction for follow-up care.
There are many things that physical therapy cannot solve. One of the benefits of seeing a physical therapist first is that we can point you in the right direction for care when that is the case. Whether that is recommending you seek out an MRI or x-ray or consulting with a surgeon, we are going to do what is best for you. Many patients get lost in the health care system, and it is always a good thing to have a musculoskeletal expert that you trust to help you.
So remember, consider physical therapy first for all your musculoskeletal needs and make sure to choose where YOU want to go for treatment! If you think that you may benefit from physical therapy, give any of our clinics a call and we would be happy to get you in ASAP for a free consultation.