My Pilgrimage to the Holy Land
This past November, right before Thanksgiving, my wife and I took a once-in-a-lifetime trip to the Holy Land.  We travelled there with a group of about 40 other pilgrims, most of whom were from our church, for 10 days.  It was close to a year in the making and it's hard to believe it has already been two months since we've come back.
So, what does this trip have to do with physical therapy?  Nothing.  It was the first time that I had taken this amount of time off of work in 13 years (when our twins were born).  Therefore, it was a huge conversation piece in the clinic leading up to the trip and after I returned with patients and co-workers.  We are blessed at Hulst Jepsen Physical Therapy to be supported in our own faith journey as well as being God-centered in our practice.
I actually kept a journal everyday of the things we did, places we went, and things we learned on the trip.  We had the opportunity to strengthen bonds with some of the couples we already knew, and made great new bonds and friendships with other couples we had not met before. I could easily go through every detail with only needing to refresh my memory on what day we did what but this blog would never end. So I will try to keep it concise by touching on the highlights and answering some of the questions I have been asked by patients and co-workers.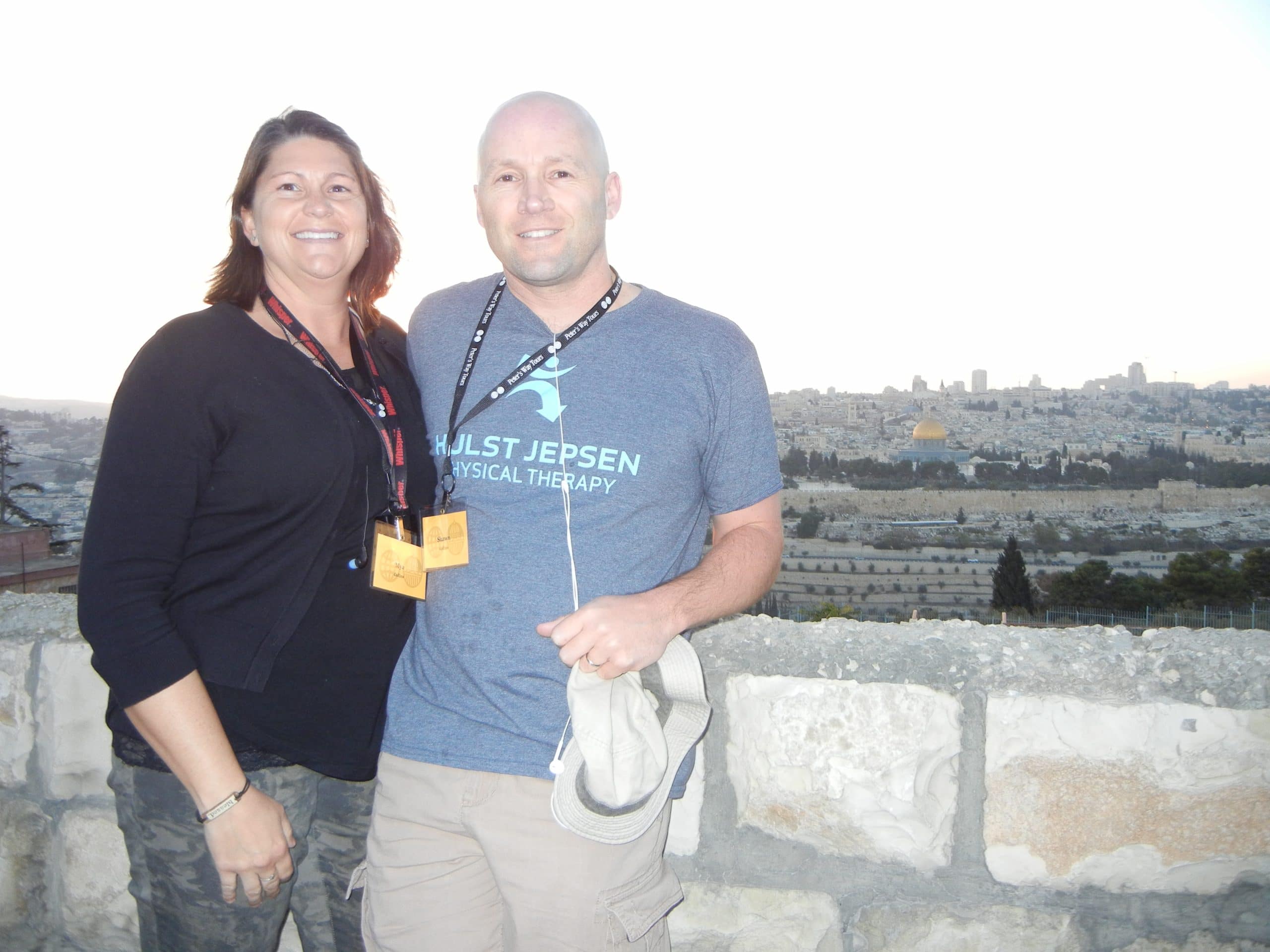 Did the trip get rid of any doubts you had?  Having doubts has not been something I have struggled with.  I have had a strong belief in God and who Jesus really is for quite some time and can't imagine that ever being shaken.  I still need to learn and grow like everyone else, but I do not have any doubts.
Did you feel safe?  Absolutely.  There were no incidents during the entire time we were there that were even questionable.  Even when we saw police officers with their machine guns, it wasn't scary.  It was busy, but the people were pleasant or kept to themselves.  The hotel we stayed at in Jerusalem was only about one mile from the Old City.  One night, my wife and I walked there on our own without the group and did not think twice about it.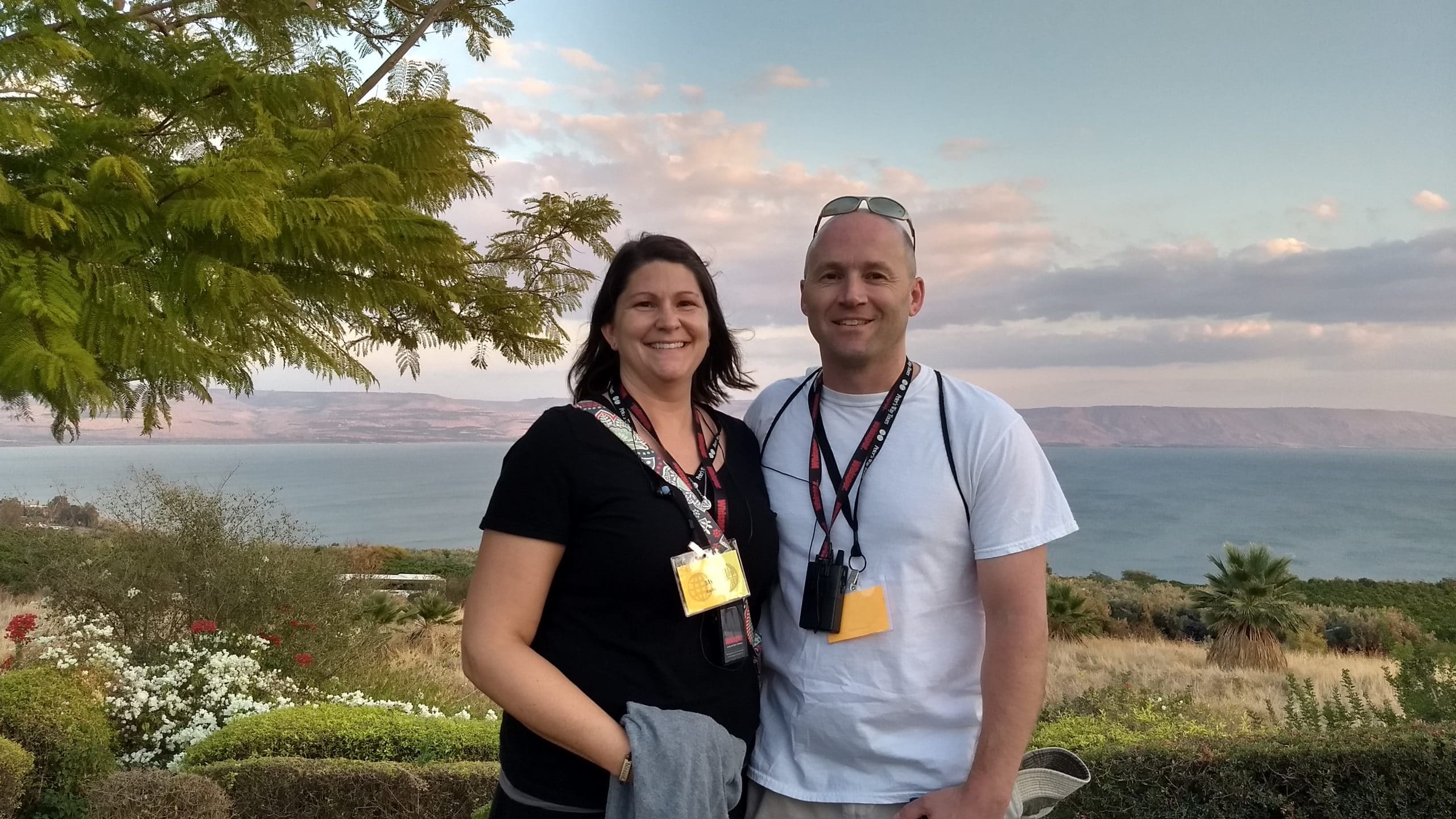 What was Israel like?  With the exception of Jerusalem, the places we were could have easily been other American cities.  Our flight landed in Tel Aviv in the early evening, and we travelled about an hour north along the Mediterranean Sea to spend the night in the city of Netanya.  It felt like we were in Florida or California with the palm trees, buildings, and coastline.  Even most of the music I heard in cars driving by or on people's phones walking by was American artists.  The license plates are different, so that stood out, and all the road signs are bilingual, which stands out.  The entire country is kosher so they have to follow all the dietary laws.  75% of the country is Jewish, about 22-23% Muslim, and the remaining small percentage are Christian.
The most common question: what was your favorite part?  This is also the hardest to answer.  The most common answer I have given is it depends on what day we are talking about.  I have been to and touched the site where Jesus was born.  We stood outside the house Mary lived in when the angel Gabriel visited her.  We were in the shepherd's field where the angels announced His birth.  To say the least, this was extra special right before the Christmas season.  I have been in the empty tomb and touched the part of Mt. Calvary where the cross was placed.  We were on top of the mountain where the Transfiguration took place and stood at the base of the mountain in which Jesus was tempted by the devil.  We even saw the "valley of the shadow of death" from Psalm 23.  Being in Capernaum was a favorite, but so was Bethesda; both sites of some of Jesus' miracles.  We renewed our wedding vows in Cana.  We stood in the river Jordan, swam in the Dead Sea (it really is impossible to sink…why were there lifeguards?)  A surprisingly emotional experience was taking a boat ride on the Sea of Galilee and seeing some of the surrounding country that is still untouched.  I also got to touch the rocky area Jesus was on when he sweated blood in the garden of Gethsemane.  We even got to visit the recently (2007) discovered city of Magdala.  I am leaving some things out, but could go on forever.
The only negative was the feeling of being too "touristy" in a lot of the places.  The churches that have been built to protect and commemorate these holy sites are incredible, and they do a good job of maintaining sacred silence when inside.  Outside is another matter, unfortunately.  There's almost always a lot of people, and not all of the sites are managed in an organized manner.  The amount of people taking selfies at these holy sites was very distracting.  The most frustrating thing was being at a holy site and then being told you only had about 10 minutes before we had to get back on the bus.
It is an experience that keeps on giving.  When I read the Bible at home or hear a passage at church on Sundays, I have a whole new perspective and clearer imagination of the places and scenes that are mentioned.  The Bible truly comes to life, and you are in awe that you are walking where Jesus walked.  I'm sure it will continue to affect me and influence me for years to come.
Hulst Jepsen Physical Therapy is a God-Centered company and we love sharing about our journey and hearing about yours as well. Learn more about our culture and core values here and see how we strive to be God-Centered in everything we do.