HJPT Year in Review 2019
The end of the year (and heck, the end of a decade) is often a great time to take a step back and truly look at the year. So many things can happen in a year; opportunities given, new skills learned, growth, loss, challenges and so much more. As a company, Hulst Jepsen Physical Therapy had quite the year in 2019.
We were blessed to be able to open our 15th clinic, located on 3 Mile and designed to serve our Northwest community! In addition, two of our established clinics got an upgrade; with our Rockford and Gaines Township locations both moved into new spaces to better serve their patients.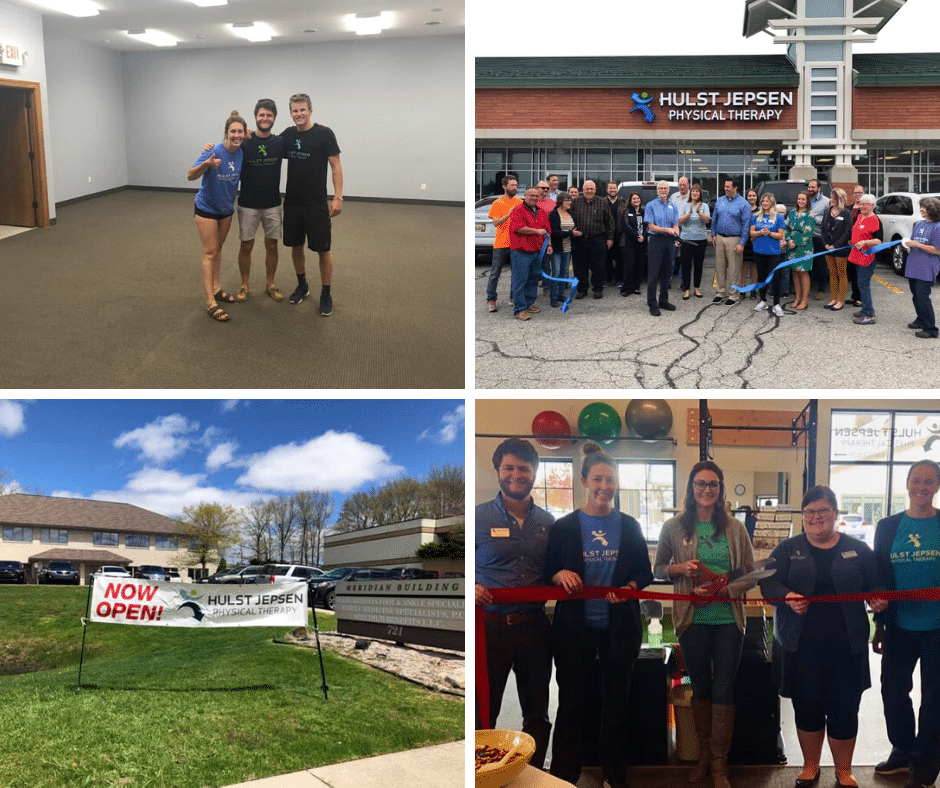 Our Hulst Jepsen family grew, as we added new Physical Therapists, techs and administrative team members to better serve our patients. We are fortunate to have such amazing team members!
As a company, we are driven toward personal growth through continuing education, advanced certifications and specialty development. So, you can imagine how proud we were to have 6 more therapists pass the Orthopedic Clinical Specialist (OCS) examination in 2019. For you, the consumer, working with an OCS certified clinician means you can have faith that your therapist has an even deeper understanding of surgery and rehabilitation processes.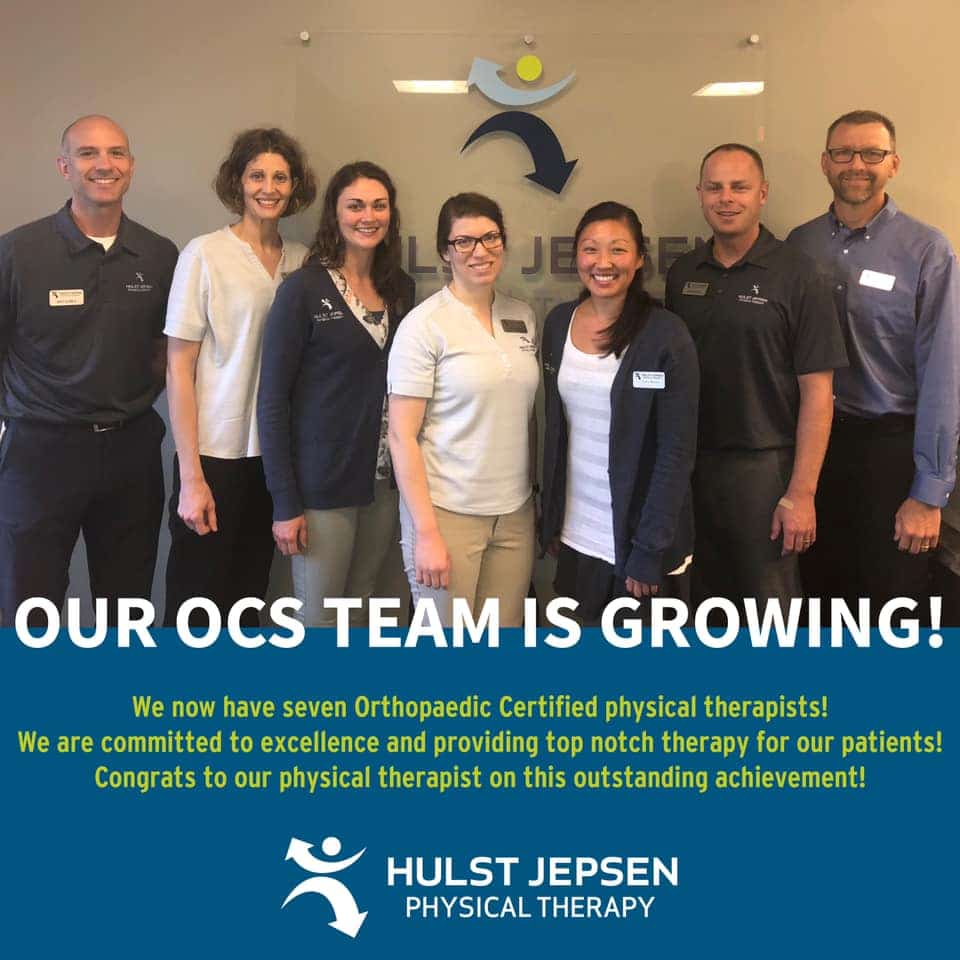 We welcomed new opportunities by launching HJPT at Home; to help ease the transition from the hospital to outpatient physical therapy by helping you improve your functional endurance and independence in the home and community. Following your orthopedic surgery, a Hulst Jepsen licensed physical therapist will provide 1-4 visits of therapy in your home within 24 to 48 hours after discharge from the hospital. You will then experience a seamless transition to our nearest outpatient clinic to continue your rehabilitation. This is outpatient therapy, covered by your insurance with applicable co-pay. We coordinate your care closely with your surgeon. We also offer a client pay option for this service if your insurance does not cover physical therapy at home.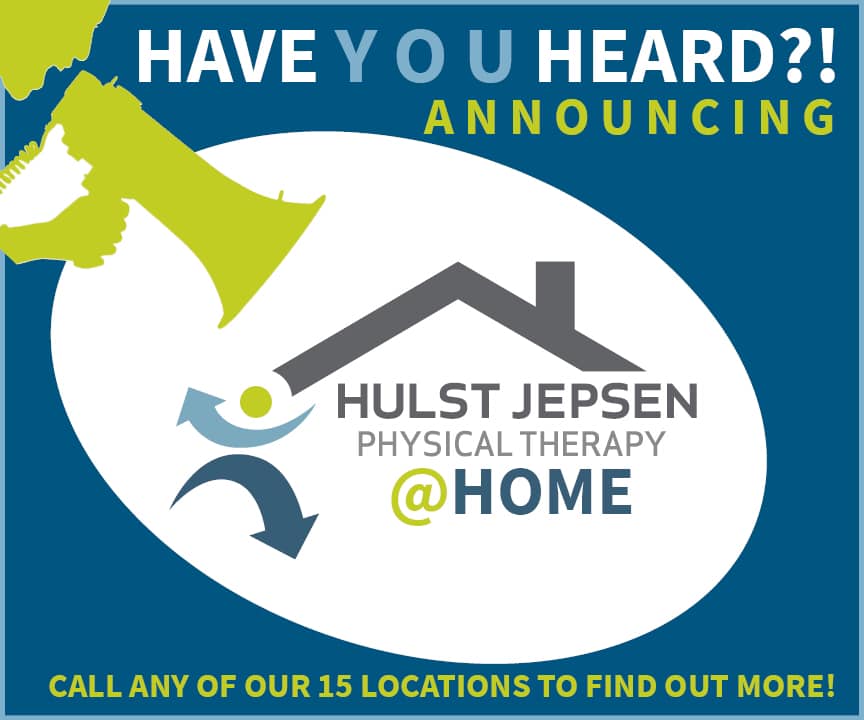 We were honored to take home West Michigan's Best and Brightest Companies to Work For® award earlier this year. The Best and Brightest Companies to Work For® competition identifies and honors organizations that display a commitment to excellence in their human resource practices and employee enrichment. Organizations are assessed based on categories such as communication, work-life balance, employee education, diversity, recognition, retention and more. All participating companies receive a complimentary assessment report and benefits throughout the year. Winning companies are invited to celebrate in one of our many event regions.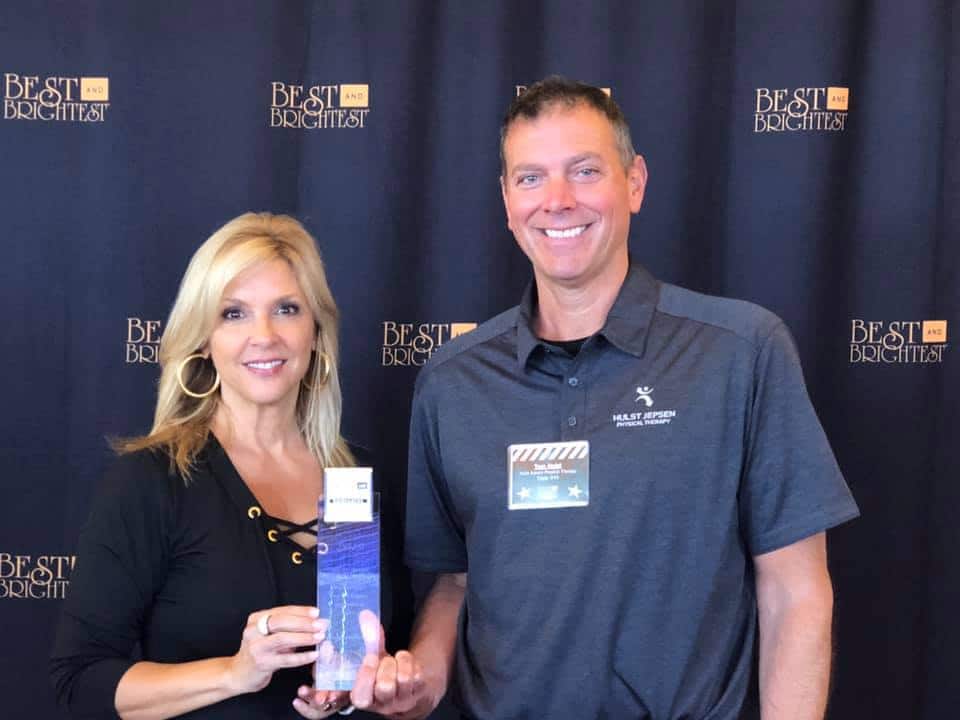 2019 was full of fun, both inside and outside of our clinics.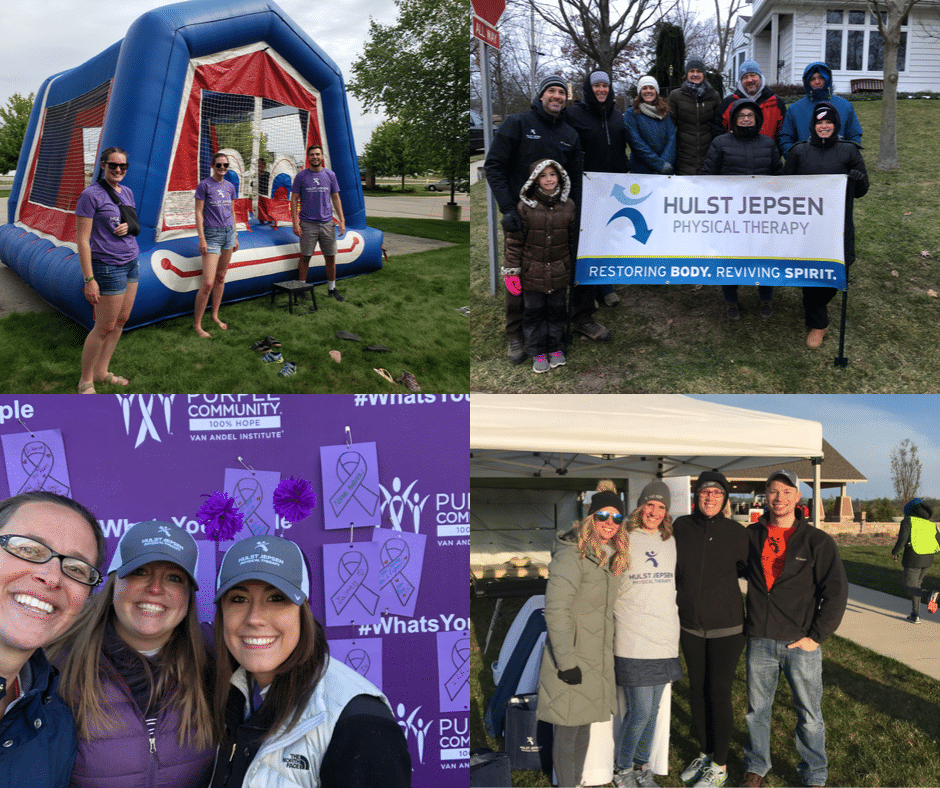 Team members volunteered at races all over the greater Grand Rapids area, supporting the Gobble Wobble, Gazelle Girl Half Marathon, and Run the Riverwalk 5k just to name a few. We also hit the pavement ourselves, with the Hulst Jepsen Physical Therapy team taking first place in their Ragnar Relay and the whole company participating in the West Michigan Workplace Walking Challenge!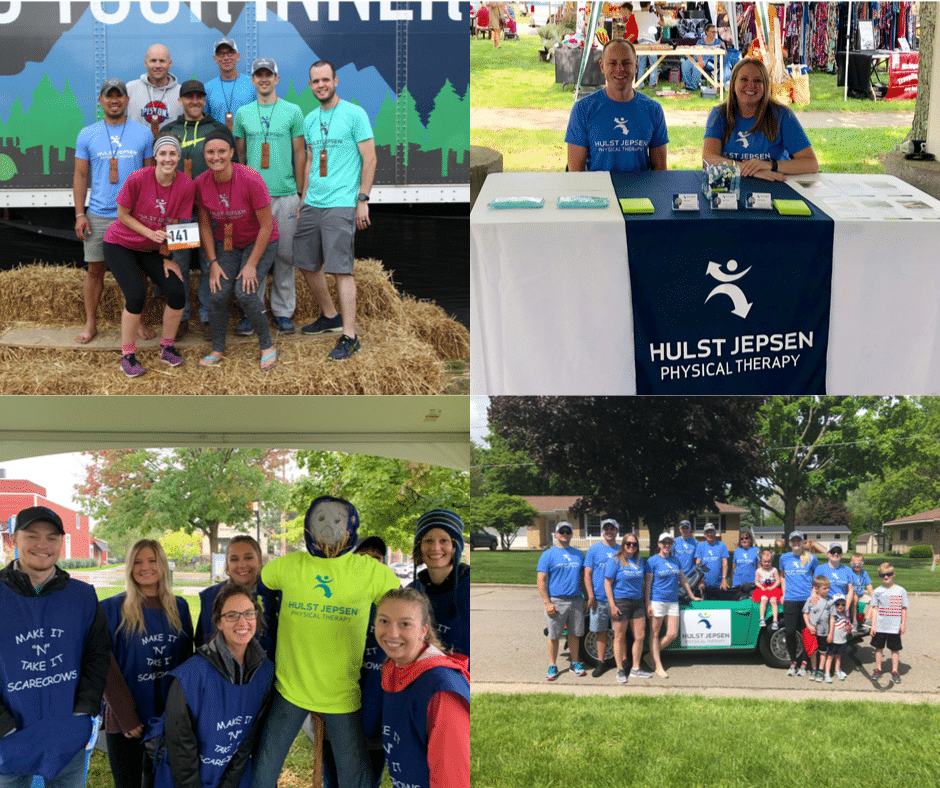 You may have seen our therapists out and about, supporting their local communities at expos, fundraisers and events such as the Byron Days Festival, Natural Health Improvement Center Open House, Rockford Start of Summer Celebration, Walker Memorial Parade, Elmwood Community Festival (and more!)
We got into the Halloween spirit by hosting our first annual Trunk or Treat at the Kentwood office to serve our Kentwood area community + our second annual pumpkin decorating contest (Did you vote on Facebook?)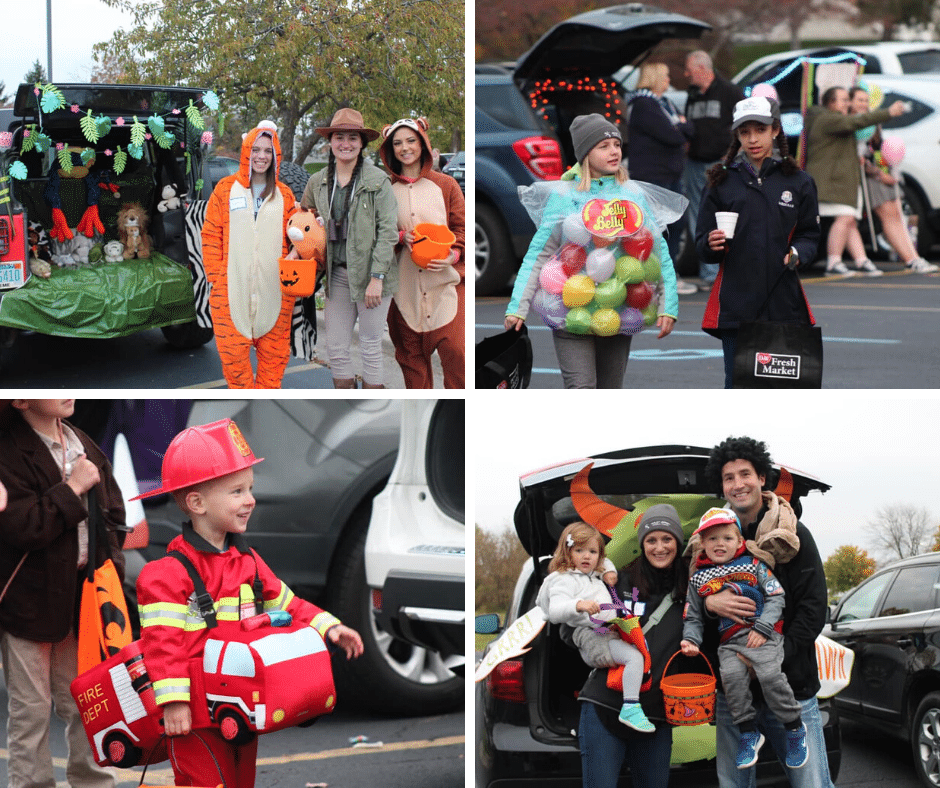 We began partnering with Clara's Cookies, an organization based out of Rockford that donates cookie proceeds toward adoptions. You can find these delicious protein cookies for sale in our clinics! In addition, Hulst Jepsen hosted numerous collection drives throughout the year to support various local organizations near and dear to our hearts such as DA Blodgett St. John's, Kids Food Basket and Big Ben's Art Box.
As always, we are unbelievably grateful for the continued support we receive from the Greater Grand Rapids community. And in turn, we strive to give that same support back. In 2019 our community contributes totaled nearly $32,000!
We couldn't do what we do without you, our patients, friends, family, supporters and community members. From us to you, Happy Holidays – we can't wait to see you in 2020!