Treating Parkinson's Disease/LSVT Big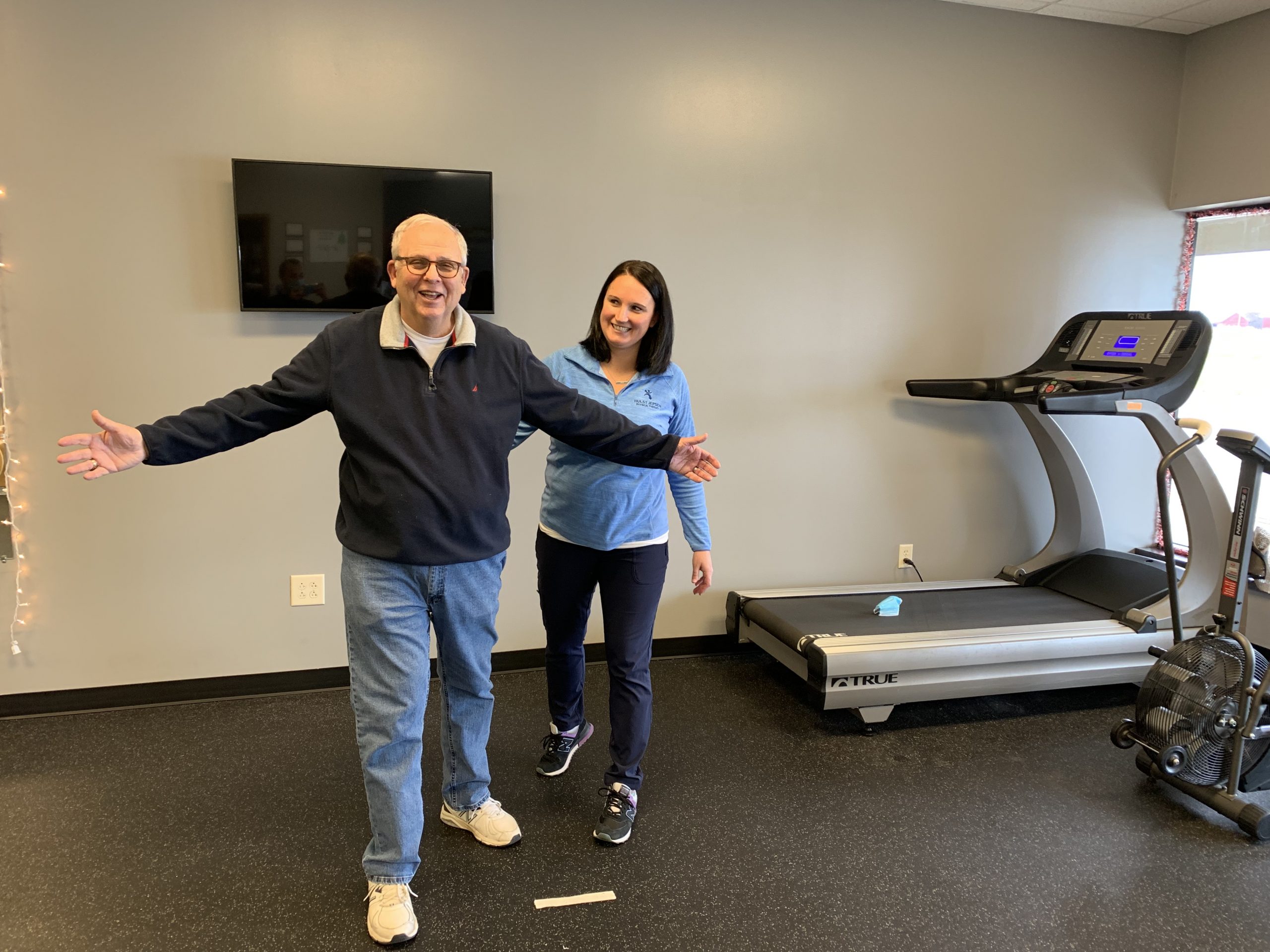 There are nearly 1,000,000 people in the United States diagnosed with Parkinson's disease, and an additional 60,000 people diagnosed this year.
Early symptoms include:
Hand tremor at rest
Small Handwriting
Loss of Smell
Trouble Moving or Walking
Trouble Sleeping
Constipation
A Soft Voice
A Masked Face (serious or angry)
Dizziness or Fainting
Stooped or Hunched forward posture
If you notice you or a loved one has more than one of the symptoms, you may want to make an appointment to talk to your doctor. There is no simple test or scan for Parkinson's, but there are 3 telltale symptoms that help doctors make a diagnosis:
Tremor
Bradykinesia (slowness of movement)
Rigidity
Bradykinesia plus either tremor or rigidity must be present to be considered for a diagnosis of Parkinson's disease. Another symptom is postural instability (falls and loss of balance), but may not be present until later in the disease progression.
Although there is no cure for Parkinson's disease, there are many options to help slow the disease progression and help you stay active. It is very possible to have a good quality of life with Parkinson's disease. While medication to replace the lost dopamine is an essential part of treatment, Physical Therapy, Occupational Therapy, and Speech Therapy have been proven to improve brain functioning and may slow symptom progression.
One of the most studied and proven treatments in physical therapy is LSVT BIG. This treatment method is focused on improving the amplitude of movement in patients with Parkinson's disease, and in turn, this has been proven to improve stride length, speed of walking, reaction time, balance, coordination, and dual tasking.
LSVT BIG is a specialized form of treatment and can only be provided by an LSVT BIG certified physical therapist or occupational therapist. The treatment consists of therapy 4 times a week for 4 weeks with daily homework practice for 30 minutes per day. Each treatment session in the clinic consists of 7 proven exercises, in addition to specific tasks to target each individual patient's functional deficits, as well as an emphasis on improving the quality of their walking. The LSVT big model can be modified to treat patients from the early to late stages of Parkinson's disease, however, it is found that early intervention is the best. So even if you are experiencing very mild symptoms, it's never too early to seek out a certified LSVT BIG physical therapist. Early Physical Therapy intervention is proven to slow the symptom progression to allow you to continue to live an active lifestyle.
The LSVT model works best with regular "tune-ups," just like you would see a dentist for regular cleanings. Having a follow-up every 3-12 months is helpful to re-assess functional performance and change up the home exercises as needed. These "tune-ups" average 4-6 visits and are important in maintaining the benefits seen with the initial 4-week treatment session.
Hulst Jepsen Physical Therapy has several LSVT BIG certified clinicians at multiple of our 18 convenient locations throughout West Michigan. Contact one of our offices to learn more or visit https://www.hjphysicaltherapy.com/specialties/lsvt-big-for-parkinsons-disease/.