Returning to my high school as an Athletic Trainer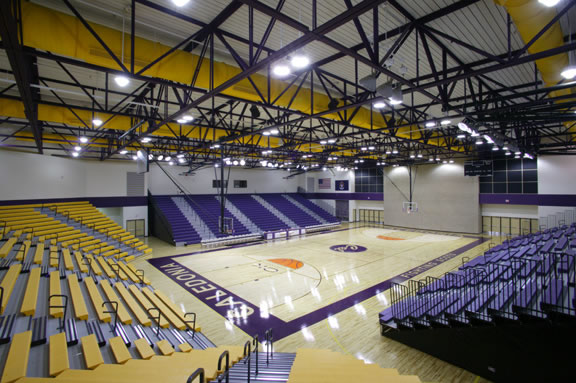 Caledonia High School image via their website
As a young Athletic Trainer working in the high school I graduated from, I often get asked the question, "What is it like working where you grew up?"
I attended school at Caledonia from preschool through high school and graduated in 2012. I began college that fall and graduated from Central Michigan University in May of 2016.  Shortly thereafter that I began working for Hulst Jepsen Physical Therapy, primarily working at Caledonia High School. As with everything, there are pros and cons to the situation.
For example, when I first began working at Caledonia High School it was great to see so many familiar faces.  It made adjusting to career life and settling into my new job a breeze.  I was familiar with the way practices were run and knew my way around the campus since I had only graduated a handful of years prior. I was able to avoid the awkward meet and greets with new co-workers, since I knew majority of the coaches as previous teachers. But this brought up the question of "Do I address them by their first name, or continue to use Mr. or Mrs., like I did when I was a student?" We concluded that I would use whichever I was more comfortable with, which, at the moment, is using Mr. and Mrs., since I was required to do so for so long.
The hardest part of transitioning from a student to a staff member was occasionally being mistaken for a student. Sometimes the newer staff wouldn't know who I was, or I would get reprimanded for having my phone out before the school day was over. I've also received the "didn't you graduate already? what are you still doing here?" questions, to which I kindly respond "I work for Hulst Jepsen Physical Therapy as an Athletic Trainer here."
Coming out of college I was hoping and praying I would get a job somewhere in Grand Rapids, I never actually thought I would get to work CHS or with the people who inspired me to become an Athletic Trainer.  I firmly believe that daily I am able to impact at least one of my athlete's lives.  Whether it is by helping them with their homework, taping their ankle, or putting a smile on someone's face who is going through a tough recovery process.  I think that it is extremely important that I put aside my personal stressors and make sure our athletic training room a positive place for all of our students and athletes.  The attitude and energy that I provide and maintain in the Athletic Training room is most often the attitude and energy that is portrayed at games and practices.  The CHS sports medicine staff are often the last people our athletes come in contact with, which makes it extremely important that they leave with the correct mindset for the task at hand.
One major benefit to being a young professional working in a high school is that I am able to easily relate to the students.  Graduating not too long ago from CHS allows me a unique bond with our athletes because I have a better understanding of what they may be going through and what to possibly expect as some of them head off to college. My roles extend beyond my job description, and while I may be a perfect band aid applier, best taper of the day, or a hydration specialist, I am also a shoulder to cry on, a listening ear, or a sounding board for the frustrations of being a teenager. I will forever be grateful to the people who helped me achieve my goals and those who have helped me get to where I am today, but also thankful for the relationships I have created with my co-workers and student athletes. This unique experience has allowed me to excel as a young professional in an environment where I will continue to learn and grow. The only thing left to say is GO SCOTS!
Are you graduating soon or interested in learning more about careers at HJPT? Visit our website to see more!