Our Mental and Physical Journeys to Christ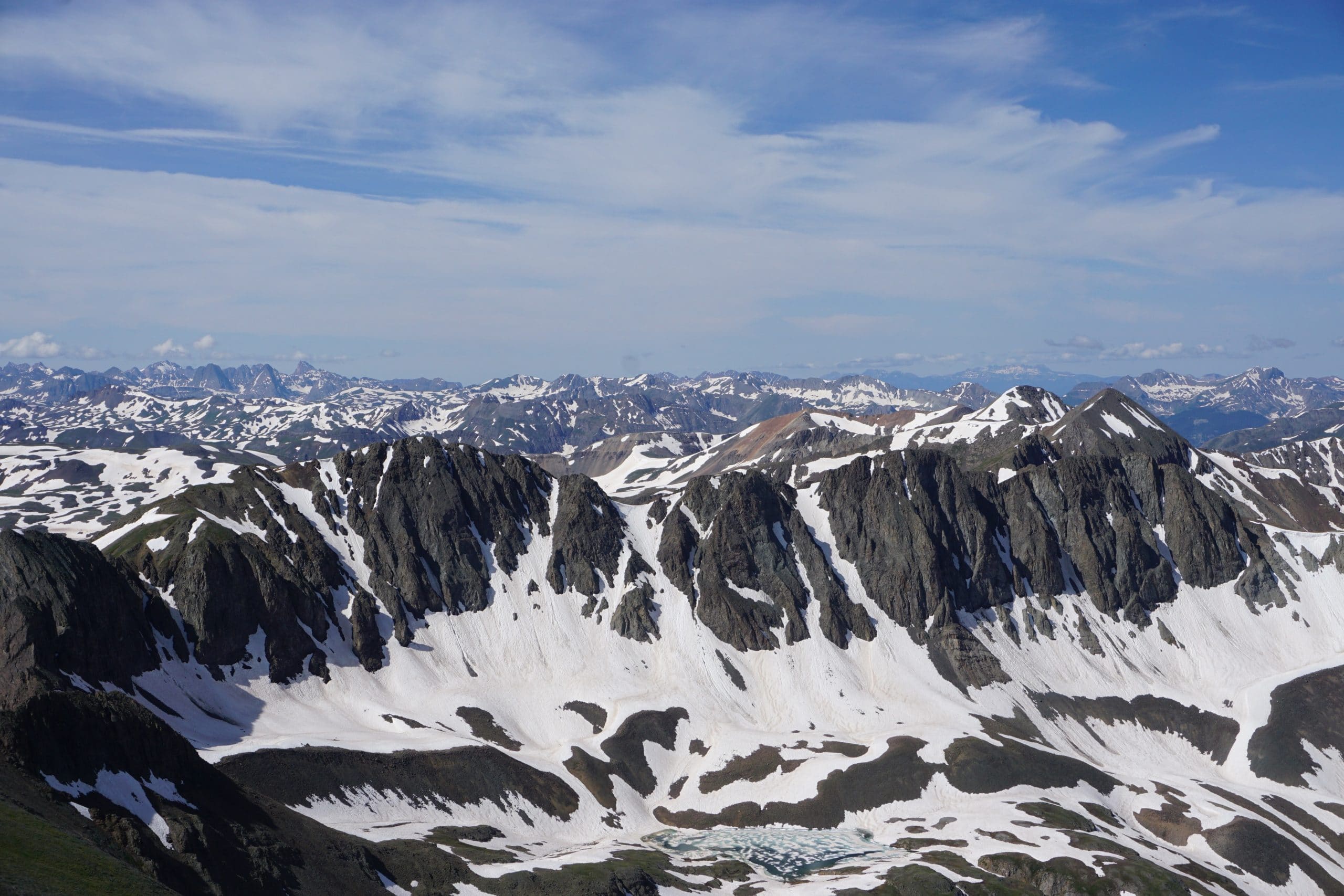 Azure skies and glistening white snow filled my vision as I breathed in the clean crisp air. Twenty adults trudged along in single file as we made our way toward the ascent of our goal of Handies Peak in Colorado. (Well, at least our physical goal) This was after all, a retreat, and not just a climbing expedition. We had another more life altering summit – the ascent toward Christ.
Mountaineering is a beautiful metaphor for our spiritual lives. Words such as ascent and summit evoke visions of our journey toward our heavenly homeland. It is no wonder that so many in history have used the mountains as a place to pray, retreat, enter into silence. We can look to the Bible and see that Moses, Elijah, and Christ went up to the mountains to pray. Because of this, Verso l'Alto Ministries has been taking young adults into the mountains for 20 years to shed the trappings of our lives, to live more simply in community and to use the beauty and perspective that the mountains offer to lift our gaze to Christ.
Verso l'Alto is an Italian phrase that means "to the heights". It was hand written on the last known climbing photo of a young Italian man named Pier Giorgio Frassati in the early 1900's. This young man was a model of Christian living. He was coined by the late Pope Saint John Paul II as, "The Man of the Beatitudes" for the way he manifested these eight ways to live. He served the poor tirelessly while going to school, leading friends into the mountains and ultimately to Christ. He did it so humbly that when he died of polio at the age of 24 (contracted from the poor he served), his parents had no idea of his life of service. Thousands turned out to his funeral.
 With Frassati as our patron, we embark into the mountains on week long retreats setting our sights on a physical summit, usually in Colorado and usually above 14,000 feet. As mentioned above, this physical summit is only part of the experience. There are many parallels to our spiritual lives that can be drawn from this backcountry retreat. Life slows down and simplifies in the wilderness, and the simple tasks of eating, getting water, and even going to the bathroom take extra time and effort. Our shelter, food, means of obtaining water, and clothing must be carried on our backs. This stripping down of our possessions and daily duties reminds that carrying "extra" baggage in our lives will only weigh us down and make spiritual growth more difficult.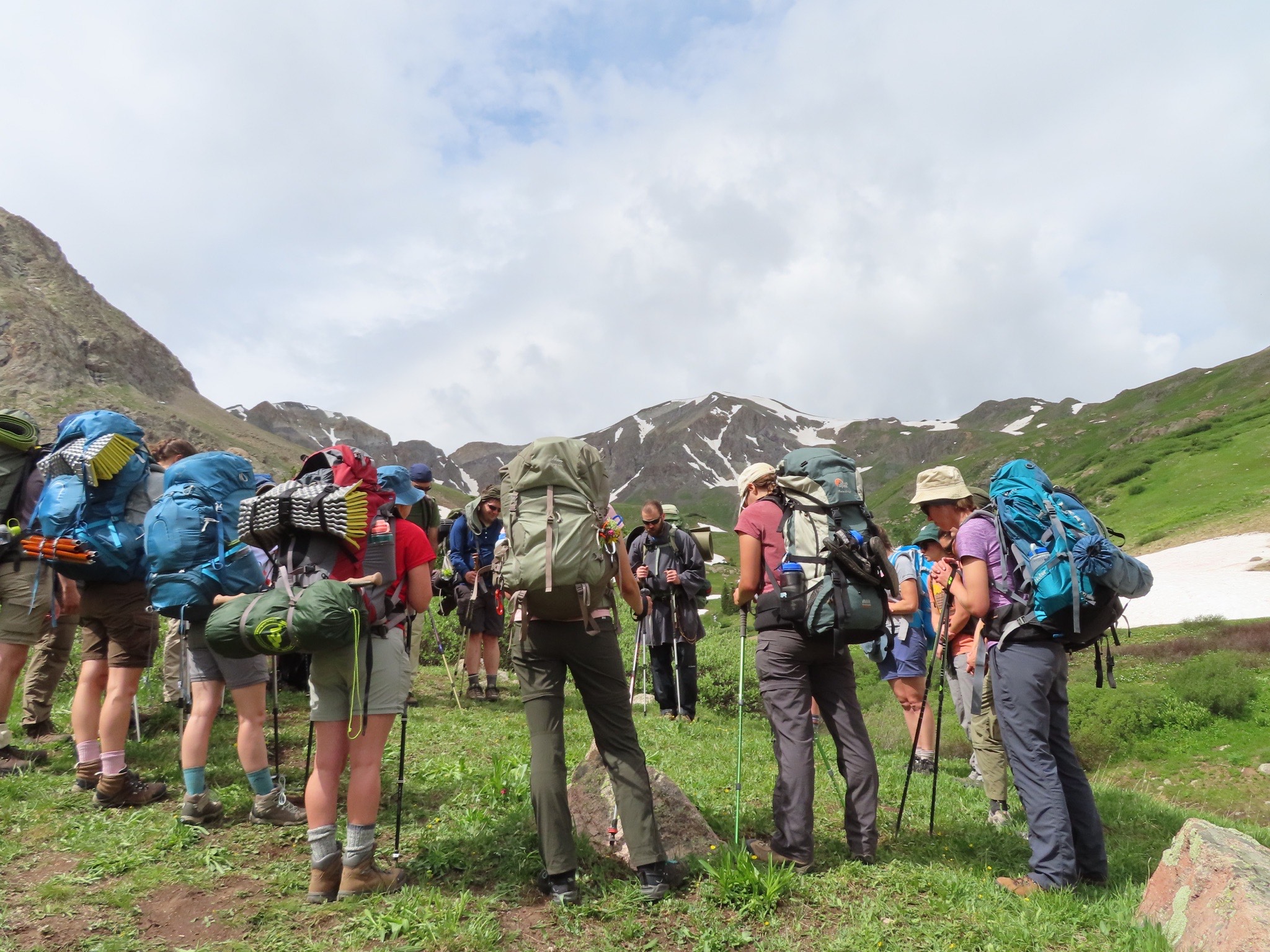 Living in community is another difference. Try putting 20 people in close proximity to each other for a week – there is plenty of opportunity for growth in patience and humility. Living in community will, if you allow it, spur your growth in fraternal charity. Opportunity abounds to seek the needs of and serve others. In an age of ever-increasing isolation and depression, this communal living offers a stark contrast to our culture. It more closely resembles true Christian living. Feats that cannot be done individually can be accomplished in community. Envision a mountain climbing team roped together in your mind: without the rope, the climbers face dangers essentially alone but, with the rope, they are bound together assisting each other up the mountain and preventing each other from falling.
 The physical climb itself brings its own parallels to our spiritual lives. Preparing to summit takes training, practice, knowledge and skill, just like our spiritual lives, and the physical effort mirrors our will. We have to choose to pray daily, spend time with God and his Word, and fight against the onslaught of temptations. The route taken also is a metaphor of our journey. Often when in the midst of the climb toward the summit, you lose vision of the peak. This so often happens in our daily lives as we are lost amidst our struggles and distractions. Keeping your gaze fixed upward is essential. Remember the harder and steeper the route, the shorter the distance to the summit.
My challenge to all who read this article – get out and experience the heights. There are many opportunities out there to find quiet high places for people of all ages and abilities. Pope Saint John Paul II once said "the mountain reveals its secrets to those who have the courage to challenge it". Dare to go "to the heights" and see what God has in store for you.
I am blessed to be involved in this ministry and blessed to work for a company that honors doing the Lord's work, as Hulst Jepsen Physical Therapy's mission is to glorify God by improving the physical health and wellbeing of our community. On this Giving Tuesday, I encourage you to find ways to give back to your community! To find events in your area where Hulst Jepsen will be volunteering, make sure to visit our event page!