Namaste: Finding My Passion for Yoga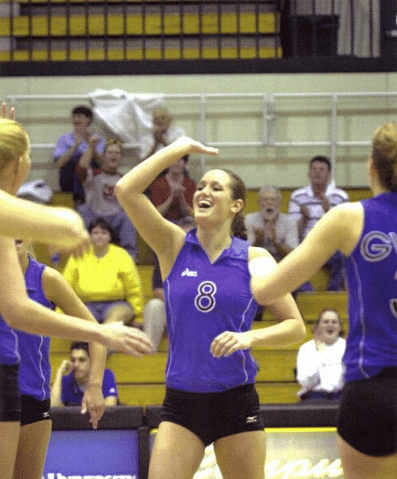 Volleyball was my first love.
I began playing in 7th grade and never looked back.  I had a successful high school and college career and continued to play recreationally as an adult, both in the gym and on the beach.
In college, I developed knee pain that, despite conservative care, continued to worsen. By the time I was 29, I had to have surgery, and was told it was best to give it up and find other ways to exercise. Hearing this news devastated me! Volleyball was not only my form of exercise, but my passion, my social life, and my stress reliever. It had been a part of my life for so long that I wasn't sure what to do without it.
Life continued on and over the next several years my role changed from volleyball player, to wife, and eventually mom of two. While I was fulfilled in other areas of my life, I still felt as if something was missing.
I missed the competitive nature of volleyball, the sweat, the companionship.  After the birth of my second child, I decided to give Bikram (hot) yoga a try.  I never thought I would really enjoy yoga, but I was yearning for something other than the monotony of walking or the elliptical.  After my first class, I was hooked.  The poses were challenging, my flexibility was tested, I sweat (a lot) and I took some time to do something just for me, which doesn't happen very often being a mom of two.  As I continued my yoga practice over the next several months, I was able to see my flexibility improve, my strength improve, and could push myself to do poses I could not have done before.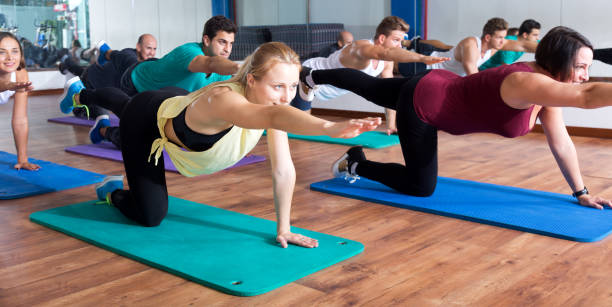 There are a lot of common misconceptions about yoga:
I have to be flexible to do yoga. FALSE!
Yoga helps to improve your flexibility, and there are modifications for each pose as needed.  Not only this, but yoga will also help to improve your balance and strength.
Yoga is too slow and boring. FALSE!
There are many types of yoga.  If you are looking for a slower paced yoga, start with a gentle, restorative yoga or even a chair yoga.  If you are looking for more of a challenge, try Bikram or a Vinyasa style class that moves through poses with your breathing.
Yoga is for women. FALSE!
Yoga was started by men and there are usually a fair amount of men in every yoga class I have attended.  Men also benefit from the improved balance, flexibility and strength.
Yoga is a religion. FALSE!
Yoga is a set of movements or poses.  People of all different religions practice yoga.
Yoga is expensive. FALSE!
Some yoga studios are pretty costly.  I have found going to one class a week at a yoga studio is affordable, then supplementing with some free videos found online for the days of the week
Practicing yoga has many proven benefits including improving muscle strength and flexibility, decreasing stress and anxiety, and improving sleep. The best part about yoga is anyone can do it!
Is yoga right for you?  Maybe!  You won't know unless you try. If you are searching for a new form of exercise, or never exercised before and are looking for a good starting point, give yoga a try. (You may love it!)
If yoga isn't right for you, try something different because you never know what your next passion may be.  Maybe it's Spinning class, Pilates, Zumba, Tai Chi.  Whatever it may be, take some time for yourself, stay active and keep moving!
Is there pain holding you back from being active? If so, give Hulst Jepsen Physical Therapy a call. All of our 15 locations offer free consultations!