HJPT Opens Two New Locations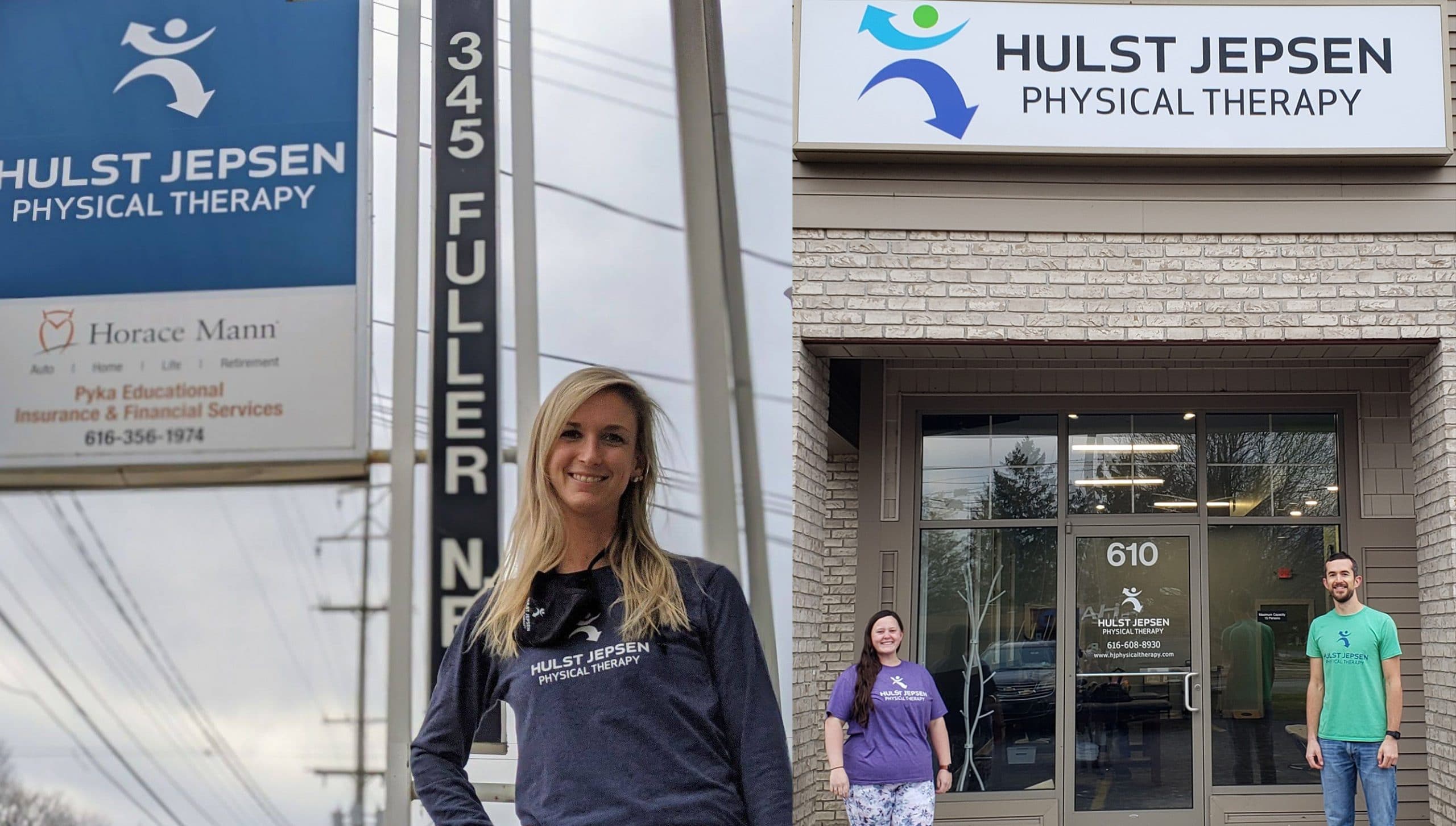 We're thrilled to announce that we opened two new clinics on December 7, 2020. Our new clinics are located at 610 Baldwin Street in Jenison and 345 Fuller Ave NE in Grand Rapids. With the opening of both the Jenison and Grand Rapids City clinics, Hulst Jepsen Physical Therapy now has 18 convenient locations in the Greater Grand Rapids area. We continue to be the leading 100% locally-owned physical therapy company in West Michigan and are so excited about this expansion!
Jenison center managers and physical therapists, Grant Fall and Courtney Garlanger, bring with them several years of experience, passion for helping out their local West Michigan community, and commitment to applying evidence-based approaches to meet the needs of their patients. Over the past few years, Fall and Garlanger have treated patients at Hulst Jepsen Physical Therapy's Hudsonville location. They will now take their expertise to the next level by managing their own clinic to serve even more patients in the Jenison community. The Jenison clinic will offer a variety of treatment specialties, including dry needling, sports medicine, Sportsmetrics, cardiopulmonary rehabilitation, blood flow restriction and vestibular rehabilitation, and more.
"At Hulst Jepsen Physical Therapy we want everyone who walks through our doors to feel like they are a part of our family and we are incredibly excited to bring that culture to the Jenison community," said Garlanger.
Tamara Kas, Grand Rapids City center manager and physical therapist, brings her expertise as a Board Certified Orthopedic Clinical Specialist, as well as a Certified Manual Therapist. Kas comes to the Grand Rapids City location after six years with Hulst Jepsen Physical Therapy and offers specialty treatment for chronic pain, concussion, headache and TMD, sports medicine, video gait analysis, Sportsmetrics, and more.
"I am beyond excited to start a new physical therapy clinic in my neighborhood. This is both a leap of faith and a dream come true for me. I am looking forward to using my gifts to serve our community, especially during this pandemic," said Kas. She continued, "Helping people decrease their pain and improve their quality of life and function is what I live for. We are all dealing with extra stress right now, which can directly exacerbate physical pain. As a local, trusted healthcare resource, I would be honored to help the people in our community get back to the activities they enjoy."
Are you in pain but not sure how to manage it? Call 616-827-3010 to schedule your FREE consultation today and learn how physical therapy could help you. For more information please visit any of our Hulst Jepsen Physical Therapy locations or check out our website at www.hjphysicaltherapy.com.