Everything Happens for a Reason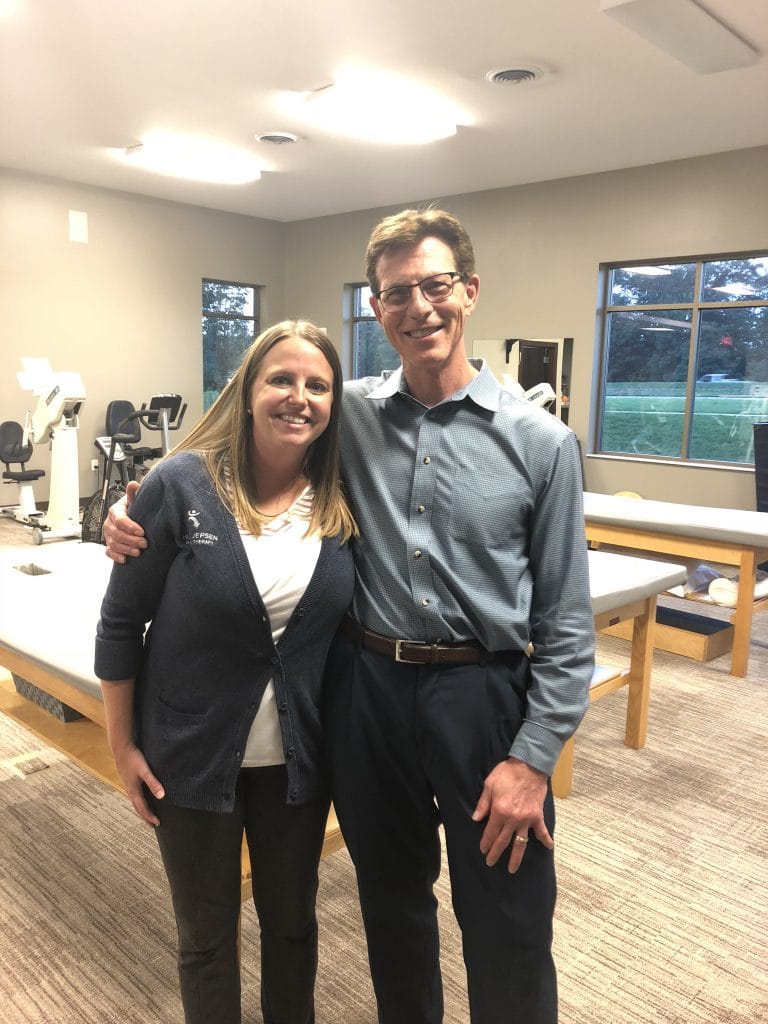 Nancy Ryan, DPT with her surgeon Dr. Scott Russo in 2018!
As a middle school student, I thought I heard the worst news of my life when I was told I needed a back surgery.  That news led to an event that would change my life forever.
My love for sports (whether watching or playing) started at an early age for me.  I was classified as the athlete and occasional "tomboy" by my family. I played teeball then softball for as long as I can remember, and tried out basketball, volleyball, tennis, and track & field along the way. I enjoyed being active and was really looking forward to competitive team sports during middle school.
In order to participate in middle school sports an official sports physical was required by the MHSSA.  During my sports physical, I completed the forward bend test to examine my spine, and it was brought to my attention that I needed to be further evaluated for Scoliosis by a spine specialist.
Scoliosis is a lateral curvature of the spine that can present in a "C" or "S" shape in the thoracic and lumbar spine.  The degrees of severity can vary from mild with just needing to be monitored, to moderate with bracing, and even severe with surgical intervention.
Upon further examination through many consecutive x-rays and spine specialist appointments, it was determined that my "S" shaped curve was growing rapidly and more severe.  Surgical intervention would be the best recommendation in order to prevent significant functional impairments for my future.  At first, I thought it would be no big deal until things were further explained to me.  They wanted to try a newer procedure with fusions instead of placing rods in my spine.  It would be a lengthy surgery and recovery requiring a back brace and months of physical therapy following surgery.  There were many risks to the surgery that at the time I felt invincible and would never happen to me.  However there was one thing that frightened me, and it was the chance that I may not be able to return to competitive sports.
The thought of this was the end of the world for me at the time.  There was no way we could take that chance but there was no way my parents could take the risk of me being functionally impaired.  My parents knew that it would be the better choice for me at the time especially in the long run.  I just was hopeful that it would all work out and I would return to competitive sports.
The surgery was successful, but not without a few complications along the way.  My lung collapsed during surgery which lengthened both the surgery time and the recovery time.  My back would not heal completely requiring a second surgery to revise the first.  However, I was overall able to recover to a healthy teenager even though I didn't quite return to the athlete I wanted to be.  I continued to play sports recreationally but was mildly limited on what I could do with my new and improved spine.  It was difficult and frustrating at times but I learned a lot during it all especially to be appreciative of what I could still do.
During the difficult recovery time I became very familiar with physical therapy.  I attended PT appointments 3 times per week for approximately 3-4 months as I weaned myself from a back brace.  Although sometimes PT was hard and painful, I truly enjoyed it!  The rehabilitation clinic was full of fun and laughter despite the sweat and tears from patients.  It was evident that they all enjoyed their profession and I am forever grateful to them for their impact on my life.
From that moment on, I was interested in healthcare and the idea of helping others recover from events and injuries in their lives that may be hard and difficult for them.  In middle school, I found my future profession in physical therapy.  During high school years, I was also introduced to athletic training as I tried to return to sports which I would also pursue in my future.
Not only did I learn about myself and what I dreamed of doing in the future, but I also learned how I wanted to act in my future profession.  I want to create a light-hearted and enjoyable atmosphere for those that may be going through a very painful or difficult time in their lives.  I want to educate and motivate them to work hard to recover but to have a little fun while we accomplish that.  Also, I want them to appreciate that these moments may not be the "end of the world" and hopefully this difficult situation for them may be happening for a reason.  Maybe I am inspiring them to live a healthier lifestyle, preventing them from a more serious impairment down the road, or possibly becoming a role model for that next future physical therapist.
In a moment that I thought life would never be the same and would be worse, it became a moment that would change my life forever but for the better! Thanks to Scoliosis, I became an athletic trainer and physical therapist and I get to have fun helping others every day!
Here at Hulst Jepsen, we strive to create a fun and welcoming environment in each of our clinics. Have you had a chance to visit one of our 14 locations yet?